The Ultimate Daily All-In-One For Your Heart, Gut, Body & Mind.
75 vitamins, minerals and whole food source ingredients to help your body thrive
Packed with Vitamin C, Zinc Citrate, Prebiotics & Probiotics for gut health and immune support
Tasty comprehensive nutrition conveniently delivered to your door step
Immunity boosting support with a FREE Liquid Vitamin D
Complete Wellness Bundle includes a FREE Liquid Vitamin D (Up to 1 year supply)
Redeem Offer
Redeem Offer
60 Day Money-Back Guarantee
The one thing health experts, dietitians, athletes and top performers agree on, is that the perfect diet doesn't exist. Even with a balanced, healthy diet, it can be tough to cover your nutritional bases through food alone. Athletic Greens ultimate daily all-in-one health drink with 75 vitamins, minerals and whole food-sourced ingredients makes it easier for you to get comprehensive nutrition without the need for multiple pills, powders or complex routines.
With added prebiotics, probiotics, digestive enzymes, adaptogens, superfoods and more, giving you your one-stop shop to help support your body's nutritional needs across energy, immunity, gut health and recovery, so you can be performing at optimal levels each day. It's the most complete supplement for a better you.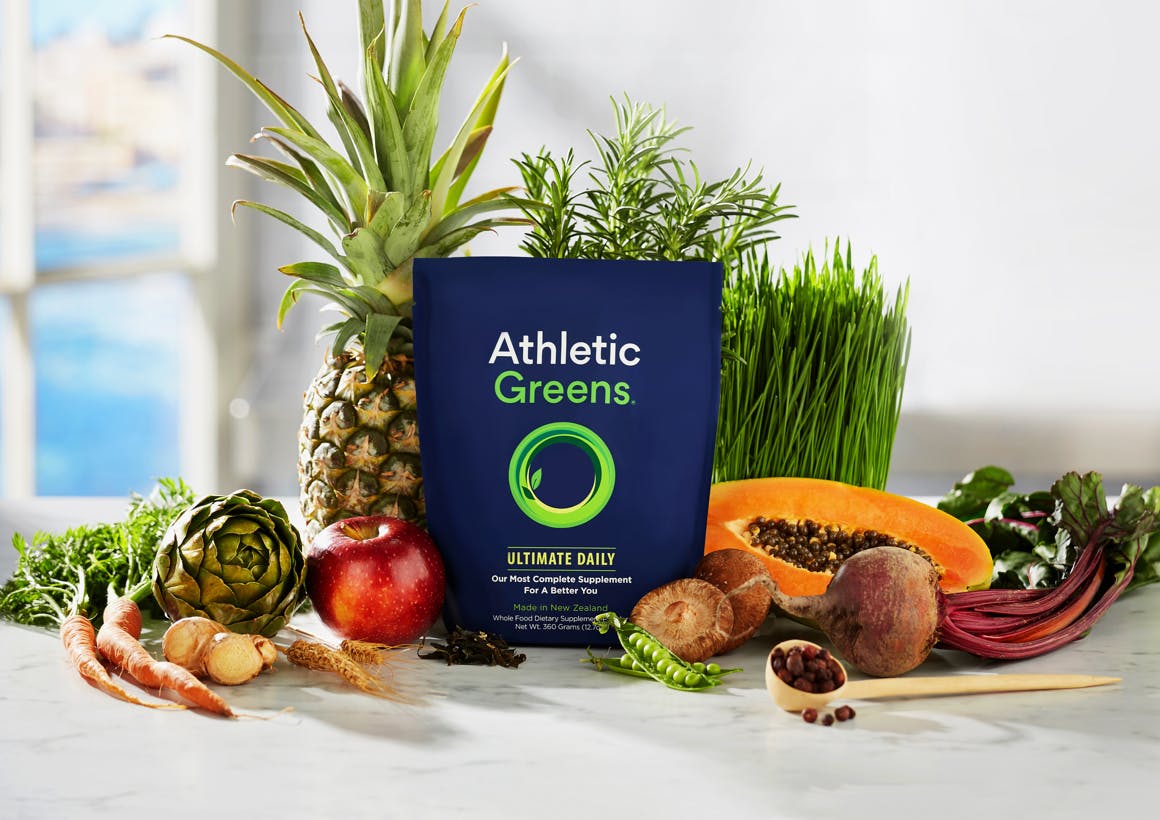 Health is dynamic. So we spent 10 years with top nutritionists, naturopaths and doctors to create a comprehensive formula that helps you adapt as you daily needs change due to stress, sleep patterns, or an imperfect diet.
With 75 whole food sourced ingredients, vitamins and minerals, digestive enzymes, prebiotics, probiotics and the antioxidant equivalent of 12 servings of fruit and veg - Athletic Greens has got you covered on 5 crucial areas of health, including energy, immunity, gut health, healthy aging and hormonal support.
If you do just ONE thing for your health today, make it this. It's time to feel your best again, and Athletic Greens is truly the delicious daily habit that sets you up for a healthy future.
FEATURED IN
75 Ingredients, 5 Key Areas Of Health, 1 Daily Scoop
Athletic Greens covers your nutritional bases in just 27 seconds a day (we timed it!). You'd be hard pressed to find a more comprehensive product that delivers the same benefits in a single serving.
No single day is the same for you - your individual nutritional needs fluctuate on a daily basis and the odds of missing a key element in your nutrition are high.
This can lead to fatigue, decreased performance, gut issues, weight instability and unhealthy aging, which can ultimately be a bottleneck to your growth, happiness and success.
But there's no reason to experience sub-optimal performance or leave any potential on the table. Our carefully selected 75 ingredients are sourced in the most pure and potent form we could find; they work together to provide support in 5 crucial areas of health.
This powerhouse of whole foods, superfoods, essential vitamins and minerals, digestive enzymes, prebiotics and probiotics provides superior nourishment and absorption, compared to other formulas.
Athletic Greens means you can truly feel awesome, every day, with ONE comprehensive whole food sourced supplement.
Your Superfoods Nutritional Insurance® Plan
A monthly subscription means you'll automatically receive your Athletic Greens each month, with no interruption to your daily routine.
When you receive your first subscription delivery, we'll also send a free custom shaker and a note from our founder.
Each pack contains 30 servings, so you'll be positively covered, day in, day out. Order once and you're set for a healthy future.
You can postpone, change or cancel your subscription online at ANY time or by simply calling our customer service team at 1-888-390-4029.
Athletic Greens is perfect if…
You want to start each day by squaring away your nutritional needs
You're looking to overcome gut health issues or nutrient deficiencies
You travel frequently and struggle to eat as well on the road
You just don't feel as good as you used to
You're an athlete seeking enhanced performance
A RISK FREE EXPERIENCE
You control your purchase method. Order a single bag, or get started now on long term good health - set up a subscription and enjoy automatic delivery every time you need a top up. And of course, you can cancel anytime.
Manufactured in a Good Manufacturing Practice (GMP) Certified, TGA-Registered facility
Made In 100% Pure New Zealand™
60-Day Money Back Guarantee
How To Use Athletic Greens
How you enjoy your Athletic Greens is up to you. It's great in smoothies, or on its own, but for optimum absorption, we've got a few tips:
First thing, on an empty stomach. Grab a glass or our custom shaker & add 6-10 oz of cold water.
Add 1 scoop of Athletic Greens powder & stir for 20 secs, or use the shaker.
Drink & enjoy!
The Science Behind Athletic Greens
Everyone is different and our individual needs change on a daily basis. We all know the perfect diet doesn't exist, but it's about more than just diet. Everyday stress, inadequate sleep, and all that life throws at us mean even the best laid health plans can come up short.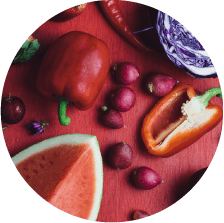 Nourish
Nourishes your body with nutrients, vitamins and minerals it needs to thrive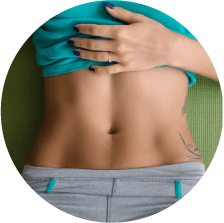 Absorb
Improves digestion to help your body absorb more nutrients from the foods you already eat*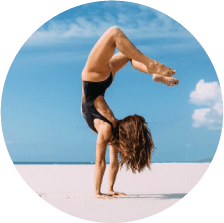 Synthesize
Delivers directly to cells, allowing your body to use these nutrients, vitamins and minerals
Redeem Offer
No Compromises
We don't compromise. You'll find no harmful chemicals, artificial colors, artificial flavors, preservatives or artificial sweeteners or added sugar. And no GMO's, herbicides, pesticides, wheat, dairy, gluten, corn, lactose, sucrose, dextrose, egg, yeast, peanuts or animal products. In other words, Athletic Greens is suitable for almost anyone.
No Compromises
THE 75 INGREDIENTS
Perfect Superfood Nutrition Is In The Details
Athletic Greens is made clean and green. This means it's paleo, vegan, keto friendly… and more
High Quality Whole Food Nutrition Investment Like No Other
You can't put a price on a healthy body, but you can decide what your health is worth to you. For most people this decision is a no-brainer. There is nothing more valuable than health.
Athletic Greens is unashamedly a premium quality product, but we know there is no better value way to get this combination of natural superfoods nutrition, with antioxidants, herbal extracts, digestive support, whole food sourced vitamins and minerals.*
We'd harp on about your daily Athletic Greens costing you less than a cup of coffee, but the truth is, that's not a fair comparison…
Every ingredient is the in the purest form we could source. We exceed cGMP and meet FDA guidelines by auditing and reviewing every supplier and manufacturer of each raw ingredient.
We proudly manufacture green and clean in a TGA-registered, Good Manufacturing Practice (GMP) Certified facility in New Zealand. Full Batch Manufacturing Records mean every individual pack is 100% traceable.
Our customer-centric approach means we rely on customer feedback to continually improve our formula, and our customer service. 10 years later we have upgraded the product 51 times!
Athletic Greens is for people who are serious about their health and are willing to invest in their bodies the same way they invest in the rest of their life.
Good health is not an expense. Expensive is allowing your body to perform sub-optimally, to be drained at work, to miss out on play.
Flexible Order Options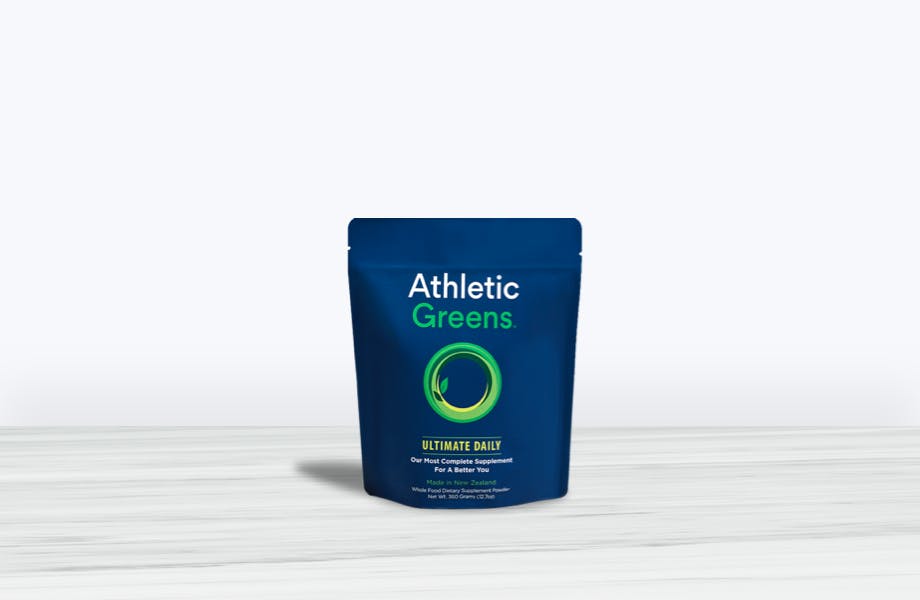 60 Day Money-Back Guarantee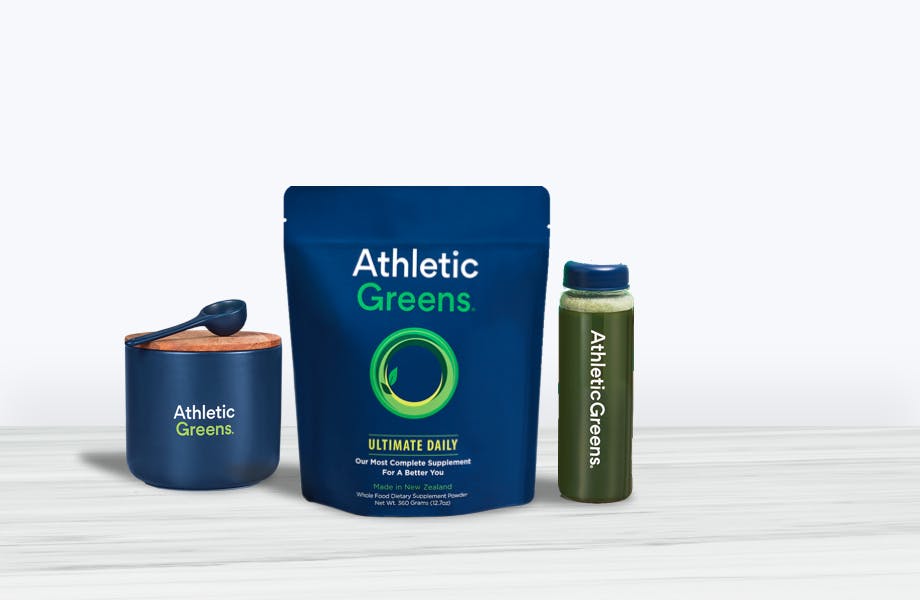 FREE
D3+K2
Immune & Muscle Support
Join & Save. Skip or Cancel Anytime.
30 Servings of 12g in One Pouch
Welcome Kit: Ceramic Jar & Shaker
Monthly Delivery, Cancel Anytime
FREE Liquid Vitamin D (Up To 1 Year Supply)
60 Day Money-Back Guarantee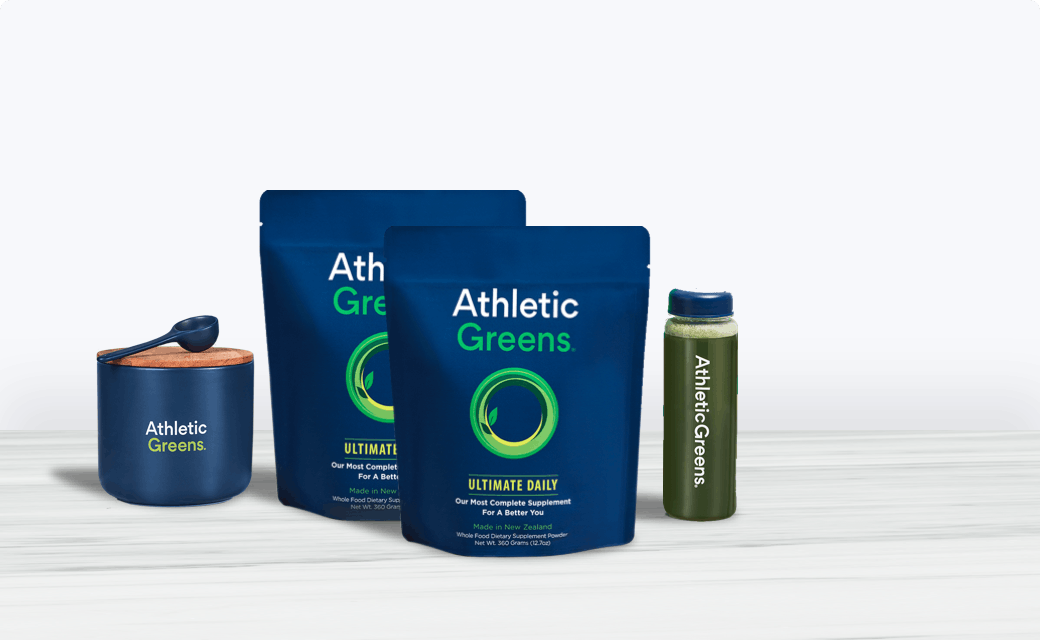 FREE
D3+K2
Immune & Muscle Support
Join & Save. Skip or Cancel Anytime.
60 Servings of 12g in Two Pouches
Welcome Kit: Ceramic Jar & Shaker
Monthly Delivery, Cancel Anytime
FREE Liquid Vitamin D (Up To 1 Year Supply)
60 Day Money-Back Guarantee