Athletic Greens is NSF Certified for Sport®
What you see is what you get. Athletic Greens uses only top quality ingredients and suppliers, giving everyone, including professional athletes, the nutritional insurance they need to perform their best. See our NSF Certification here.
What Is NSF Certified For Sport®?
Certifies that each ingredient is approved for use by professional athletes and Olympians.
Athletic Greens does not contain any of the 270+ substances banned by USADA, MLB, NHL, and other professional sports organizations.
Guarantees that our manufacturers and our suppliers have met the stringent independent certification process.
No Compromises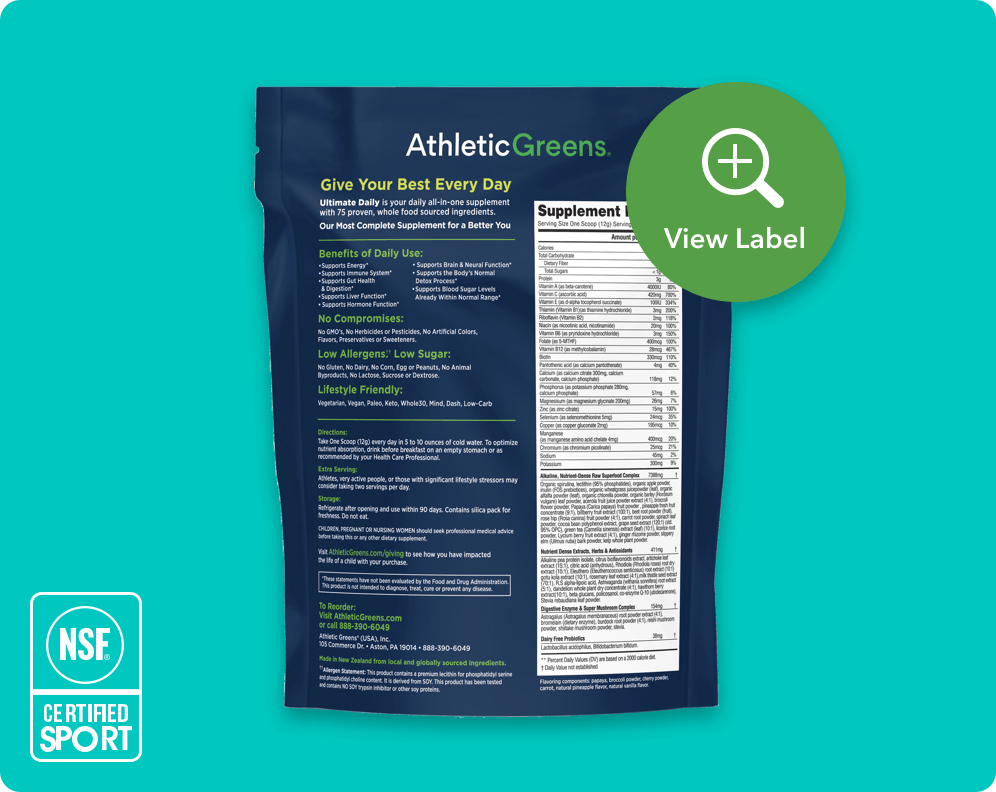 You can't get NSF Certified for Sport® by cutting corners. What you see on our label, is what's in the product.
We conduct strict analytical and microbiological testing on every batch of Ultimate Daily and have met rigorous standards of testing and transparency with our manufacturers and suppliers.
Whether you're a professional athlete or a weekend warrior, Athletic Greens is committed to helping you feel, look, and perform your best.
Tell me more; if you're a coach, pro athlete or sports dietitian, for more info please contact sport@athleticgreens.com.
FAQs
Your Happiness Is Our Happiness
Tell me more about NSF?
NSF International is an independent and accredited non-governmental organization whose mission is to protect and improve global human health. NSF achieves this by leading the development of public health and safety standards and by testing and certifying products and systems to those standards.
What makes Athletic Greens Ultimate Daily different from other supplements?
When we say you'd be hard pressed to find a more comprehensive supplement, we mean it. The Ultimate Daily All-In-One provides nutritional support across 5 critical areas of health: energy, immunity, gut health, hormonal support, and healthy aging. The green powder is formulated with 75 vitamins, minerals and whole food-sourced ingredients, carefully selected for high potency and bioavailability superior to most pill-based supplements. Athletic Greens is manufactured and TGA-registered in New Zealand, with strict analytical and microbiological testing and the highest quality standards.
How do I know if Athletic Greens Ultimate Daily is right for me?
Ultimate Daily is great for all people who want to ensure their nutritional needs are met on a daily basis. It fills in the gaps where your diet falls short and provides the support you need to combat life's daily stressors. If you're looking to overcome nutrient deficiencies or combat strong cravings, training hard or traveling, Ultimate Daily provides nutritional support when you need it most.  Athletic Greens is suitable for adults of all ages and lifestyles, including athletes and those following specialty diets.
What kind of benefits can I expect from taking Athletic Greens Ultimate Daily?
Everyone's a little different. Many customers report getting sick less frequently, feeling more energy, and more balanced digestion and gut health over the course of the first month or so. Other common benefits include clearer skin, stronger hair and nails, and improved mood and concentration. For those with a nutritional deficiency or digestive issues, benefits can be perceived more quickly, within the first week or two.
Is Athletic Greens Ultimate Daily suitable for my diet?
Ultimate Daily is Paleo, keto, and vegan friendly and has NO: wheat, dairy, gluten, corn, lactose, sucrose, dextrose, egg, yeast, peanuts, animal products, GMO's, herbicides, pesticides, harmful chemicals, artificial colors, artificial flavors, preservatives, artificial sweeteners, or added sugar. Ultimate Daily is low allergen, has less than 1g of sugar per serving, and is suitable for many diets. If you have any concerns we recommend checking with your doctor. Our knowledgeable Customer Happiness team is available to answer any other questions you may have 1-888-390-4029, support@athleticgreens.com, or via chat.
Can I manage my subscription preferences?
Yes! Athletic Greens has flexible subscription management options with the ability to select your preferred delivery day and delivery frequency. You have full control over these settings to schedule however you like.
Can I easily cancel my subscription?
Yes, you can easily cancel your subscription online with the click of a button.