Meet Your New Competitive Edge
Get a FREE year supply of Liquid Vitamin D + 5 FREE Travel Packs with Subscription
All-In-One Nutrition In 75 Highly Absorbable Ingredients
Supports Energy, Recovery, Immunity & Digestion
Keto, Vegan, and Paleo Friendly
Get Your Greens
GREG BENNETT

PODCAST HOST, FITNESS AND HEALTH & WELLBEING CONSULTANT, COACH, SPEAKER, OLYMPIAN & WORLD CHAMPION

"Life is a never-ending circle of stress and recovery. We stress ourselves physically, mentally, and emotionally and then do our best to recover, rebuild, and become stronger. Then repeat. Athletic Greens has become a staple to my recovery and rebuilding routine."

SEBASTIAN KIENLE

PROFESSIONAL TRIATHLETE

"For me Athletic Greens is not a supplement, it's simply the most nutrient dense food there is."

TIMOTHY O'DONNELL

PROFESSIONAL TRIATHLETE

"Performance starts with being healthy. I rely on Athletic Greens to easily provide me with 75 essential vitamins, minerals and whole food ingredients that keep my body functioning properly so I can perform when it counts!"

LAURA PHILIPP

PROFESSIONAL TRIATHLETE, FASTEST TIME FOR AN IRONMAN DEBUT 14X IRONMAN 70.3 WINNER, 2X WORLD CUP PODIUM

"When I read what's inside athletic greens I could hardly believe it: all natural ingredients, perfectly adapted to my needs. I knew it immediately, this will be my product!"

MIRINDA CARFRAE

PROFESSIONAL TRIATHLETE

"Athletic Greens has been a game changer for our family. Finally a supplement that contains all the essential micronutrients to help support our immune systems and keep us at optimal health in a yummy drink."

MICHAEL GERVAIS

HOST OF FINDING MASTERY & HIGH PERFORMANCE PSYCHOLOGIST

"For years I've used plant based supplements. Athletic Greens has found the right combination of high grade micronutrients, absorption and taste. I mix it with water first thing in the morning."

TIM DON

PROFESSIONAL TRAITHLETE, 4X WORLD CHAMPION, 3X OLYMPIAN 2X IRONMAN CHAMPION, 1X WORLD RECORD

"Knowing AG has all my daily supplement needs covered for the demands of a Pro's life gives me confidence when my body is on the limit day in and day out."

ASHLEIGH GENTLE

PROFESSIONAL TRIATHLETE

"Athletic Greens is the best micro supplement to help me achieve consistency in training and racing, no matter where I am in the world."

JOSH AMBERGER

PROFESSIONAL TRIATHLETE

"Hooley dooley, Athletic Greens is the bomb! The tastiest micronutrient supplement I've ever come across, keeps me sharp and vitalised to punch out the training sessions all day! Athletic Greens, the tastiest most fulfilling micronutrient drink on the market. Full confidence in this product!"
Flexible Order Options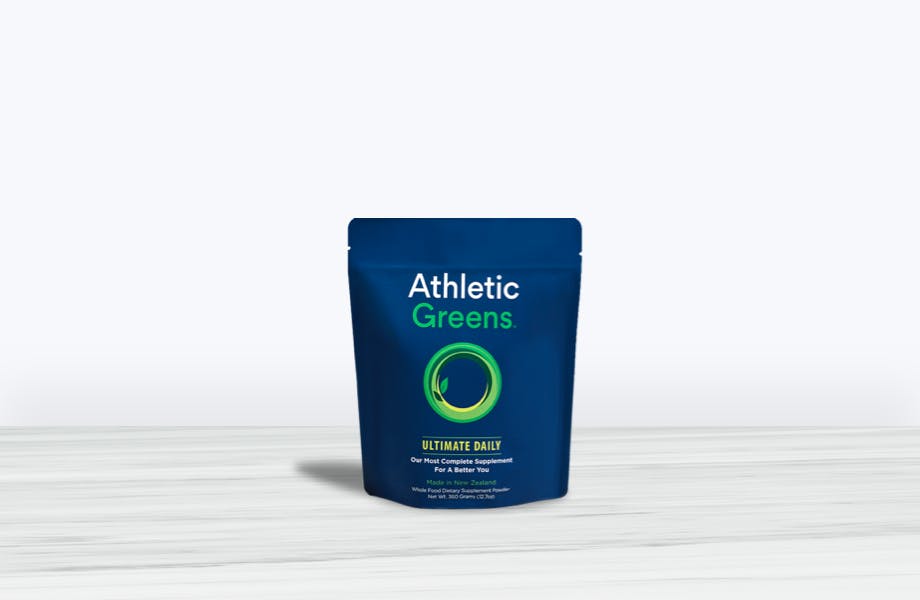 60 Day Money-Back Guarantee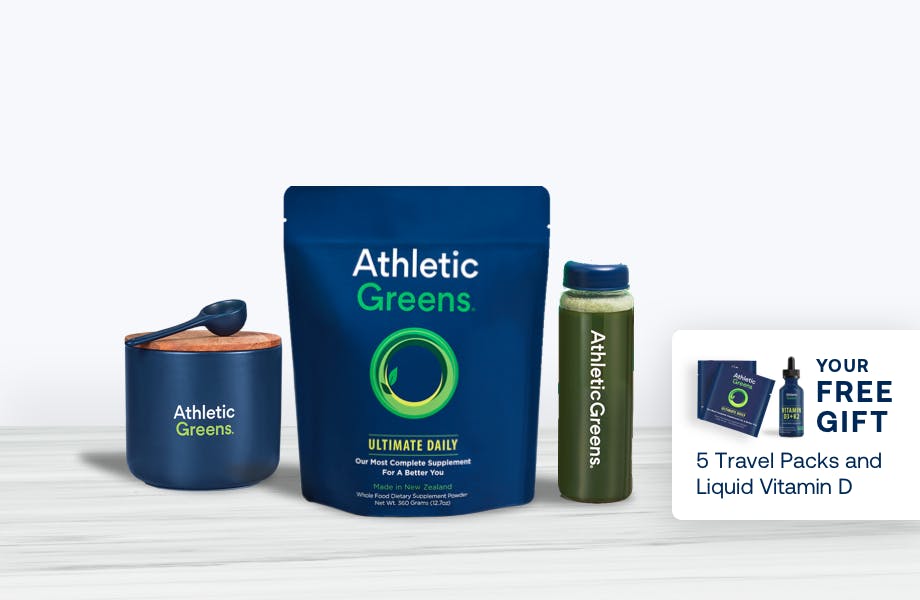 Join & Save. Skip or Cancel Anytime.
30 Servings of 12g in One Pouch
Welcome Kit: Ceramic Jar & Shaker
Monthly Delivery, Cancel Anytime
FREE Liquid Vitamin D (Up To 1 Year Supply)
5 FREE Ultimate Daily Travel Packs
60 Day Money-Back Guarantee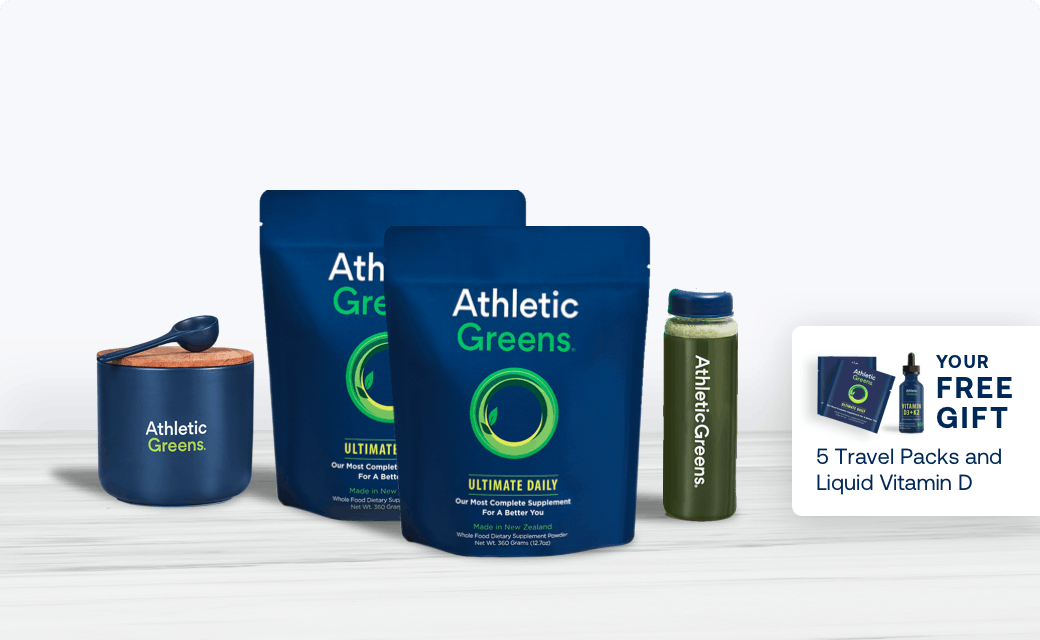 Join & Save. Skip or Cancel Anytime.
60 Servings of 12g in Two Pouches
Welcome Kit: Ceramic Jar & Shaker
Monthly Delivery, Cancel Anytime
FREE Liquid Vitamin D (Up To 1 Year Supply)
5 FREE Ultimate Daily Travel Packs
60 Day Money-Back Guarantee
As an athlete pushing for your best, our formula gives you all-in-one nutritional support for energy, recovery, immunity and digestion.
Formulated For Athletes
Supports Energy

Supports Recovery

Supports Immunity

Supports Digestion
75 Vitamins, Minerals, and Whole Food Sourced Ingredients
Health is dynamic. So we created a comprehensive formulae that adapts as your daily needs change due to sleep patterns, stress or an imperfect diet.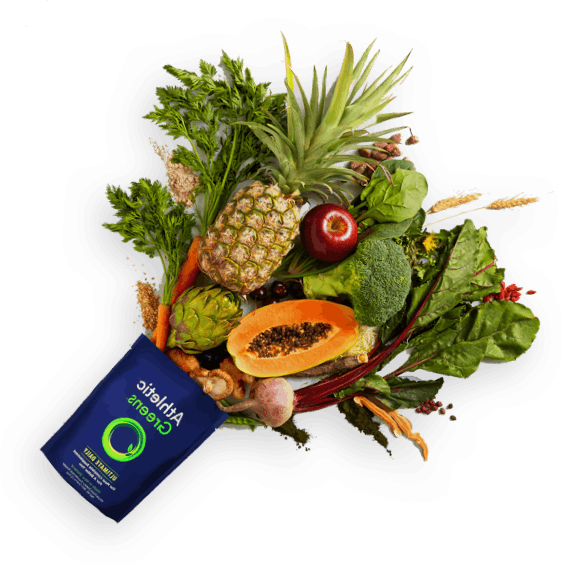 Vitamins & Minerals
The perfect balance of vitamins and minerals is crucial for a well-functioning nervous system, and a fundamental building block of a strong immune system.*
Superfood Complex
Antioxidants are known to counteract the impact of free radicals, which are highly unstable molecules that can cause cell damage within your body.  Our superfood formula provides the antioxidant equivalent of 12 servings of fruits and vegetables.
Adaptogens & Antioxidants
Adaptogens are an amazing class of herbs that respond to influences like stress, and can aid in normalizing sleep patterns and lowering everyday physical and mental fatigue. Our neural support formula can benefit cognition, memory, and the nervous system.*

Prebiotics & Probiotics
High quality prebiotics and probiotics provide effective immune system support.
Probiotics to improve your gut health, enhance nutrient absorption and strengthen your immune system. Prebiotic fiber to feed those probiotics so they can multiply and establish an ongoing presence in your digestive system.*

Digestive Enzymes
We've added ingredients with naturally occurring enzymes that bolster the digestive process and enhance nutrient absorption.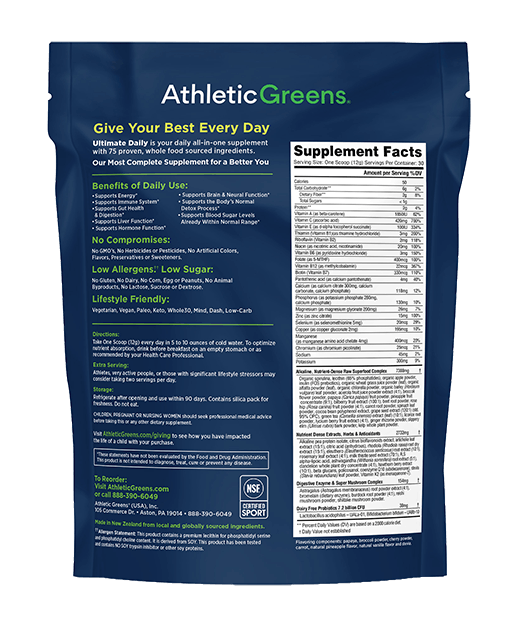 No Compromises
We don't compromise. You'll find no harmful chemicals, artificial colors, preservatives or artificial sweeteners or added sugar. And no GMO's, herbicides, pesticides, wheat, dairy, gluten, corn, lactose, sucrose, dextrose, egg, yeast, peanuts or animal products. In other words, Athletic Greens is suitable for almost anyone.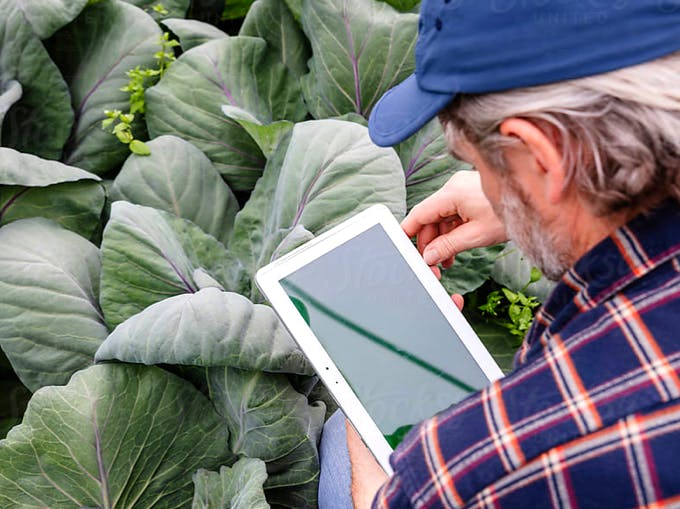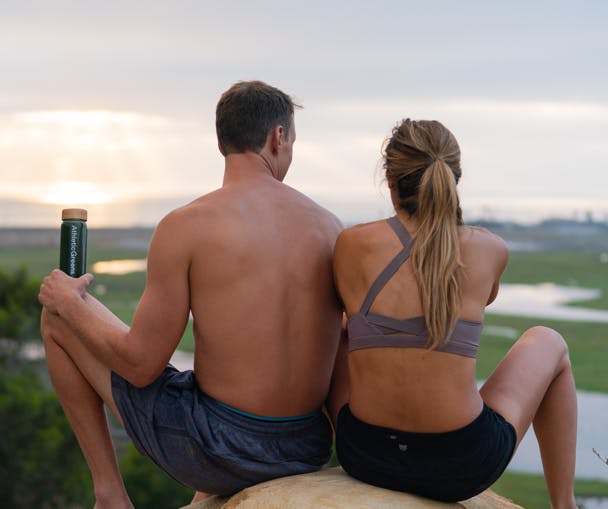 Athletic Greens is Perfect if...
You want to start each day by squaring away your nutritional needs
You're an athlete seeking enhanced performance
You're looking to overcome gut health issues or nutrient deficiencies
You are looking to upgrade your multiple supplements to an all-in-one
You're looking for convenient and tasty option that's easy on the stomach
FAQ
What makes Athletic Greens different?
When we say you'd be hard pressed to find a more comprehensive supplement, we mean it. Athletic Greens is formulated with 75 vitamins, minerals and whole food-sourced ingredients, carefully selected for high potency and bioavailability. Athletic Greens, because it is in powder form is more bioavailable than pill-based supplements. Manufactured in a TGA-registered facility in New Zealand, with strict analytical and microbiological testing and the highest quality standards.
Is Athletic Greens suitable for my Diet?
Athletic Greens is Paleo, keto, and vegan friendly and has NO: wheat, dairy, gluten, corn, lactose, sucrose, dextrose, egg, yeast, peanuts, animal products, GMO's, herbicides, pesticides, harmful chemicals, artificial colors, preservatives, artificial sweeteners, or added sugar.

Ultimate Daily is low allergen, has less than 1g of sugar per serving, and is suitable for most diets. If you have any concerns we recommend checking with your doctor. Our knowledgeable Customer Happiness team is available to answer any other questions you may have 1-888-390-4029, support@athleticgreens.com, or via chat.
Can I easily cancel my subscription?
Yes, you can easily cancel your subscription online with the click of a button.
Can I manage my subscription preference?
Yes! Athletic Greens has flexible subscription management options with the ability to select your preferred delivery day and delivery frequency. You have full control over these settings to schedule however you like.
How does your 60 day money back guarantee work?
If you're not 100% satisfied, contact us within 60 days of your first order to initiate the process of receiving a refund on your original order.
What does being NSF Certified for Sport® mean?
Athletic Greens Ultimate Daily is registered as a Certified for Sport product under the National Sanitation Foundation. This means that we are certified under some of the most strict industry regulations available today, which include: 
Testing of every batch to prove that Ultimate Daily does not include any of 270+ banned substances as dictated by major athletic organizations and the World Anti-Doping Agency 
Each ingredient is approved for use by professional athletes and Olympians
Annual label testing to prove that the contents of the product match what is on the label, and at the strengths/levels listed on the label
There are no unsafe levels of contaminants in the product
The facility that the product is produced in is audited annually for quality and safety by NSF International, in addition to FDA regulatory audits
Becoming NSF certified is an exhaustive process that includes strict analytical and microbiological testing on every batch of Ultimate Daily, including testing and verification on each one of our 75 ingredients. 
It also requires meeting rigorous standards of testing and transparency with our manufacturers and suppliers, annual quality audits at every location in the manufacturing process and annual label audits for accuracy and efficacy.